Know Your Blogger Series
All Options Considered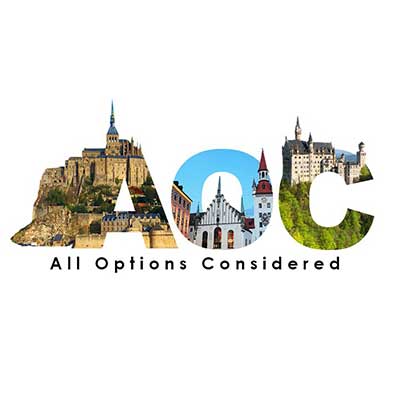 We started building our blog, "All Options Considered", in February of 2019 because we thought it would be a great way to spend some of our time after we retired. Our goal as bloggers is to share our stories, connect with other people, and help others create their best life through financial independence. We love personal finance and we love travel so we use our blog to talk mostly about our experiences relating to those topics.
We first came up with "All Options Considered" in 2007 and made it our personal family motto. At the time we were working on making a change from individual stock investing to owning rental properties.
Check out our Q&A with All Options Considered here.
Come read about the financial independence blog, All Options Considered.
Each week at Personal Finance Blogs, we publish interviews from amazing bloggers from the personal finance space. This week, we are featuring the blog, All Options Considered.
During these weekly features, we are hoping to provide a way for you to interact and learn more about different blogs in the personal finance space.
Below, you can read more about the story behind All Options Considered, learn about the author, and learn personal finance tips from All Options Considered to help you improve your financial situation.
A big thanks for All Options Considered for this interview! Now, we will turn it over to the author for this interview.
Tell us about your blog
We started building our blog, "All Options Considered", in February of 2019 because we thought it would be a great way to spend some of our time after we retired. Our goal as bloggers is to share our stories, connect with other people, and help others create their best life through financial independence. We love personal finance and we love travel so we use our blog to talk mostly about our experiences relating to those topics.
We first came up with "All Options Considered" in 2007 and made it our personal family motto. At the time we were working on making a change from individual stock investing to owning rental properties. We weren't sure owning rentals would be our thing but we wanted to give ourselves permission to try anything.
We have used the idea of All Options Considered for all of our big financial decisions, including retiring in 2018, selling our condo, and starting our full time travels. All Options Considered has been a great mindset for us in terms of learning about personal finance and exploring our hopes and dreams, so it's an idea we want to share.
What makes you and your blog unique?
When we stumbled across the FIRE movement in 2014 we didn't find many voices we related to or were inspired by, not because they didn't exist but because they weren't being highlighted. When we retired we decided to do our part to add to the diverse voices talking about personal finance tools and ideas, because the reality is the FIRE community is fabulously diverse.
We are a lesbian couple and we reached financial independence in 2017 and retired in 2018. We wanted a complete and total change from our career-focused lives after we retired so we decided to leave Seattle and make travel our new lifestyle. By November of 2018 we had sold our home and car, let go of 99% of our belongings and started a new life as nomads.
As bloggers we aren't trying to be influencers, we want to be supporters. So we aren't releasing a ton of blog posts, and we aren't telling people what they need to do. We're talking about our own personal finance decisions and hoping to inspire other people to do what works best for them. We get a lot of direct messages from people asking us to chat with them about personal finance, and that's what we love most about blogging.
What does "being good with your personal finances" mean to you?
For us it means being willing to learn about personal finance, being willing to own your own finances, and being brave enough to make mistakes and keep learning. As kids we didn't get a ton of instruction about personal finance so we had a lot to learn on our own as adults. In the beginning we were nervous to take control of our money and to learn about investing, but we figured it out together.
Ali was a welfare kid with a lot of lessons about what NOT to do from her parents, and a lot of debt in her family. But Ali also had a Grandma who taught herself about stock investing, and inspired Ali to learn as well. Ali's challenge has been getting to a point where personal finance is less tied to shame and grief about her early childhood experiences with money, debt, and poverty. Alison's parents pinched pennies and clipped coupons when she was young, and then did well with commercial property investments as they got older which was inspiring for her. Alison's dad was an accountant and managed their family's investments, but he wasn't comfortable talking about money with anyone, including family. Alison wanted to learn about money and investing from her dad but that topic was considered taboo in her family.
One of our first decisions as a couple was to talk about money with each other right from the start, no secrets and no shame allowed. We actually started talking about money as soon as we met, even before we were officially dating. We wanted to make sure we made personal finance a constant source of discussion and a core area of focus in our relationship. We wanted to learn everything we could about personal finance, starting in the very beginning with getting out of debt, buying a personal home, and learning about individual stock investing. We try to talk about money with all of our closest friends and family members on a regular basis, and we encourage other people we meet and interact with to do the same.
What are some habits you practice to keep your personal finances in order?
First, we make sure we talk through all of our financial decisions and all of our hopes and dreams as a couple. We follow our Personal Money Statement, and we don't make any purchases or financial decisions until we are on the same page and in agreement.
When we met, Ali was still paying off her student loan debt. We both wanted to avoid consumer debt, and we especially wanted to save and invest as much of our income as possible. As we worked on our early retirement plan our most important habits were tracking our spending, and doing our best to avoid lifestyle inflation. We also made sure we had an emergency fund of a year's living expenses available in case of unexpected costs.
Now that we are retired our most important personal finance habits are sticking to our budget, and leaving our portfolio alone. We increased our emergency fund to a few years' living expenses since we no longer have job related income to rely on, and we no longer have employer provided health insurance to help cover our medical costs.
We track every dollar we spend and we watch the stock market the way we watch international football scores, as fans from a distance. And because we have more time available now we can track our spending much more carefully and accurately compared to the big picture tracking we did while we were working. But we don't worry about our spending or get too obsessed with being frugal anymore, because those kinds of habits are simpler and more natural for us now. We know our budget and we know what kinds of purchases are reasonable for us at this point in our lives.
What are your three articles people should read to get to know you and your message better on your site?
For someone looking to improve their financial situation, what's your best advice?
The first step is to get rid of any student loan debt and consumer related debt. We think it's really important to be gentle with yourself when paying off debt, so don't compare yourself to others and don't waste time and energy on debt shame.
The next thing is to decide what your financial hopes and dreams are, whether that's in a Personal Money Statement or on a post-it note. And if you have a partner, make sure you are sharing your hopes and dreams with each other and discussing your plans. Whether you blend your finances or not, it's important to talk openly about money along with discussing your life goals.
Another great option for improving your finances is to keep growing and changing in your career. We both stayed in fairly consistent roles within one firm for the majority of our careers, and wish we had been brave enough to move around to other companies more often as a way to keep growing our salaries.
Once you get deeper into your career and your salary is increasing over time, it becomes much more important to live below your means, avoid consumer debt, and save as much as you can. For example, we only took vacations if we could save up in advance and then pay for them with cash and miles/points.
We also believe that people can manage their own investments, as long as they have enough time to learn about investment options. For us the tricky part with that was having enough confidence to take over our investments and build our plan based on our goals and dreams. With time, we've gained more and more confidence and feel much more at ease with managing our portfolio today.
Most importantly, remember that personal finance is personal and financial independence shouldn't be a contest. It doesn't make sense to say that people should retire at age 65, or that just saving 15% in your 401k is the best option, or that the 4% rule will work for everyone. These are all just generic concepts and average numbers. Everyone is different and everyone has different puzzle pieces to work with. People need to build financial independence plans that are not boiler plate, so their plan and portfolio will work well for them specifically.
What is your favorite investment class and why? (stocks, private business, bonds, real estate, crypto, precious metals, etc.)
Some people do really well with individual stocks, and at some level that was the investing option we enjoyed most, because we made a research project out of every stock we bought and we enjoyed the process of learning about individual companies. But ultimately we decided individual stocks took too much of our time to manage and it was hard for us to avoid trying to time the market with individual stock purchases. So we are done with individual stock investing.
Other people do really well with rental properties as investments, so we decided to try that as well. Our mistakes started with using personal properties as rentals, which not only made them terrible investments but also made managing the properties unpleasant for us because we also ended up getting too involved in our renters' personal lives. We never felt comfortable asking for market rate rent amounts and we were more interested in being generous with our renters. So eventually we sold our rentals and assume we are done with real estate investing.
As we got serious about working towards financial independence we moved our investments into Exchange Traded Funds (ETFs). We allocate our low cost ETFs based on our risk tolerance and desire for longterm growth. We maintain a straight forward mix of low cost ETFs, and we only modify our portfolio once a year as part of our annual scheduled rebalancing. This is the investment class and process that seems to work best for us. At this point we have no plans to modify change our investing philosophy, even with all the market chaos we've seen in 2020.
Do you have any financial mistakes you'd like to share, and how have you grown from these mistakes to improve your personal finances?
Student Loans: Ali feels pretty strongly that she could have done better with student loan debt if she had been more well informed about personal finance when she was younger. The lessons Ali had as a kid included the idea that debt was a pretty normal way to pay for whatever she wanted in life. As a college kid Ali accrued more than $43k in student loan debt, along with a small amount of consumer debt. She attended a community college for initial credits, and then transferred to a lower cost university to finish her degree. For the entire time she was in school, which was longer than average, Ali was working minimum wage part time and temp jobs, and even a sub minimum wage restaurant job. She used student loans to pay for school and to supplement her regular living expenses. When we talk about those student loans today Ali is confident she could have managed the same process in the same timeline or even faster without the student loans, but she didn't realize that was an option worth trying at the time.
Inheriting a House and Keeping it as a Rental Property: In 2007, we inherited a family home that had immense sentimental value. The house was on a rural Canadian island, and it had a tremendous amount of deferred maintenance needs. If we could go back in time, we would have sold the house immediately and then invested whatever proceeds there were. Instead of selling right away we decided to slowly improve the house over time, use half of it as our vacation home and the other half as a rental property. We didn't have the cash to fix it up, but we got a new roof, had a new foundation poured, replaced all of the appliances, had a furnace and forced air system installed, finished the basement for our use, and so on. We kept the upstairs rented at a monthly amount far below the market rate, and way below the maintenance costs we were trying to cope with. We even took on additional maintenance costs to please our renter. Looking back this was actually our biggest lesson in lifestyle inflation, since we were trying to keep up with some friends who had rental properties and vacation homes. It took us almost 10 years to realize we had to sell the house in order to regain control of our finances, knowing we would not be able to recoup our costs.
Turning our Personal Home into a Rental Property: At the same time as we were trying to manage the Canadian rental property, we also turned our personal residence in Seattle into a rental property and moved ourselves into a small apartment. We rented our house below market rate in hopes if helping another family with their personal finance issues. We didn't know anything about the 1% rule for rental properties at the time. Frankly we didn't know anything about how to be landlords. We look back at the situation we created with both of our rental properties in Seattle and Canada as our most important lesson in personal finance. If there is a checklist for what not to do with rental properties we probably accomplished all of those things, and most of them twice. If we ever decide to own another personal home for ourselves, and especially if we ever decide to own another rental property, we are committed to making better financial decisions when it comes to real estate in the future.
If you received a $5,000,000 windfall tomorrow, what would you do with the money?
After paying the taxes, we would set up a new Donor Advised Fund to make ongoing regular donations to programs that support racial justice and LGBTQ equality. We would also find a piece of property in the US where we could build a small home base for ourselves, and also provide co-living space for our chosen family.
Why do you believe learning about money and caring about personal finance is important?
Knowledge creates freedom and choice, and knowledge about personal finance can be very powerful. The more we learn about money, the easier it is for us to make better financial choices for ourselves. It's very clear to us that learning about money and caring about personal finance has made it possible for us to accomplish our personal hopes and dreams and contribute to the communities we live in.
What's a non-money related interest you have and what do you love about it?
Travel! We love travel for a million reasons. When we lived in Seattle before we became nomads we were in our comfort zone, with a routine that was relatively fixed and a group of friends we could rely on. We aren't particularly adventurous or outgoing, but when we travel, we are constantly learning new things, trying new foods, picking up friendly and respectful words in different languages, and meeting new people. Regularly packing and unpacking reminds us that things are less important than experiences.
Living as travelers reminds us to behave like respectful and gracious guests at all times, always adapting to other people and other cultures instead of expecting others to adapt to us. We are always on our toes when we travel, expecting the unexpected, and we love that.
Right now, in June of 2020, we are not traveling the way we would like because of COVID-19. We have talked about whether it might be time to settle down again now because of the virus and travel restrictions. But our plans are to resume our travels as soon as possible because that's the lifestyle that we are most passionate about right now.
How You Can Contact All Options Considered for More Information
Thank you for reading this interview, and thank you, All Options Considered, for providing us with some great personal finance tips!