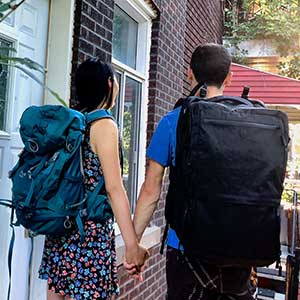 Know Your Blogger Series
Nomad Numbers
In 2018, we sold most of our possessions, moved out of San Francisco and quit our jobs to slow travel the world… indefinitely.
Our mission is to inspire people to think differently about the life they can design for themselves. We are achieving this mission currently by sharing our nomadic journey of slow travel and show that the cost of traveling the world can be much cheaper than the cost of staying home.
Check out our Q&A with Nomad Numbers here.
Come read about how the blog Nomad Numbers is showing readers how to travel the world without breaking the bank.
Each week at Personal Finance Blogs, we publish interviews from amazing bloggers from the personal finance space. This week, we are featuring the blog, Nomad Numbers.
During these weekly features, we are hoping to provide a way for you to interact and learn more about different blogs in the personal finance space.
Below, you can read more about the story behind Nomad Numbers, learn about the author, and learn personal finance tips from Nomad Numbers to help you improve your financial situation.
A big thanks for Nomad Numbers for this interview! Now, we will turn it over to the author for this interview.
Tell us about Nomad Numbers
In 2018, we sold most of our possessions, moved out of San Francisco and quit our jobs to slow travel the world… indefinitely.
Our blog
started as a way to share this next chapter of our lives and help us connect with like-minded full-time travelers. We are able to achieve this lifestyle through financial independence and live off of our savings and investments.
We came up with the name Nomad Numbers because we wanted to share the detailed expenses about this lifestyle and how approachable it is. I am myself a big numbers cruncher so tracking expenses was already something I did since I was a teenager (I have been tracking my daily expenses since I was 17 years old!).
What makes you and your blog unique?
When we started to plan for a life of travel, we found a lot of beautiful travel blogs on the Internet but it was difficult to get solid numbers on what it costs to stay in such places. There are a few websites that crowdsource this information but we found such resources either inconsistent, incomplete or even erroneous. Also, most of this information does not seem to apply with
our slow travel philosophy
.
And since we have a passion for numbers, we like to track everything, especially expenses. So we are building a cost of living index for ourselves and decided that it might be useful to share it with people. Which is why we started writing both
destinations reports
and
weekend guides
.
We also design
pretty infographics
that give an at a glance view of our cost of living for each city we traveled to. Hopefully, people can use them to plan their long term travel.
What does "being good with your personal finances" mean to you?
For us, it is first and foremost being educated on the fundamentals of personal finance and making sound decisions for financial independence.
Our philosophy is to keep it simple, let it run on auto-pilot and live our lives. During our working years, this meant keeping our expenses low, our savings rate high, increasing our earnings and investing early. We also follow the philosophy of keeping a simple portfolio of low cost index funds of the world market and bonds with some real estate for diversification.
Now that we are in the preservation phase, we mainly focus on keeping our expenses low while letting our investments run its course. In summary, being good with personal finance for us is not picking stocks, maximizing earnings, being up to date with the latest trends or understanding complex theories! We stick to the fundamentals and are very intentional with its simplicity.
What are some habits you practice to keep your personal finances in order?
On a daily basis, we like to capture our daily expenses on the go and this has become a natural habit. On a monthly basis, I do a 30 minute check up on our finances to make sure our expenses are still within expectations. On a quarterly basis, we've started to rebalance our portfolio. Lastly, on a yearly basis, we look back at the previous year and define our financial goals and target for the year to come.
What are your three articles people should read to get to know you and your message better on your site?
For someone looking to improve their financial situation, what's your best advice?
In the short term (up to 1 year), educate yourself about personal finance, then start making an inventory of your finances (where your money is going) and start cutting unnecessary expenses.
In the medium-term (1-3 years), execute a plan to get out of debt, start building an emergency fund and invest the surplus.
In the long term, start investing your money(we suggest the approach in The Simple Path to Wealth by Jim Collins) and think about your ideal lifestyle if work became optional – this will be a big motivator. If you do it right and manage to save 50%+ of your income, you should be able to reach financial freedom in less than 15 years and live out your dream lifestyle.
What are your favorite personal finance books?
Quit Like A Millionaire: No Gimmicks, Lock or Trust Fund Required (by Kristy Shen and Bryce Leung) – This is my current go-to book for people that want an introduction to the concept of financial independence. Whether you want to become a nomadic traveler or simply want to live your passion without having to worry about the financial aspect of life, this book will be life-changing.

The Simple Path to Wealth: Your road map to financial independence and a rich, free life (by JL Collins) – This is the book I always recommend to people that want to get started with investing. It is written by the Godfather of Personal Finance, JL Collins.

Your Money Or Your Life: 9 Steps to Transforming Your Relationship with Money and Achieving Financial Independence (by Vicki Robin) – Whether you are a fresh graduate ready to take on the next chapter in life, haven't yet begun to master money or are ready to make changes to improve to your current lifestyle, you will learn a lot from this book.
Do you have any financial mistakes you'd like to share, and how have you grown from these mistakes to improve your personal finances?
Poorly investing money in real estate in France at a time when I did not understand cash flow. We have since educated ourselves on real estate investing and invested in property in the US that has been providing much better and healthier cash flow.
Being mostly invested in individual stocks from companies we worked at. Luckily, none of those individual stocks tanked but it was a very passive way of investing to just let company stock collect and do its thing. Once we educated ourselves on personal finance and the importance of diversification, we sold all of the individual stock and moved it to low cost index funds.
Not discovering travel rewards until late 2016
, I used to sign up for Amazon credit cards just to get a $50 credit! That was a missed opportunity of tens of thousands of dollars that we could have used towards flight redemptions. We've since been
mastering travel rewards
and have been saving about 10K / year in airfare thanks to them.
If you received a $5,000,000 windfall tomorrow, what would you do with the money?
We would pay the tax first, have some fun purchases, then invest the rest! A part of it would go towards a dream home that we would use as a home base but continue to travel for most of the year – this is something we think about doing anyways but this windfall would allow us to seriously upgrade the dream home.
We would also use the passive income generated from the investments to treat our family and friends to join us on some trips. Part of it would go to a good cause because it's well beyond what we need to live very comfortably!
What's a non-money related interest you have and what do you love about it?
I personally love photography and videography. I carry a drone with us and that has been a great way to
capture amazing footage
of the places we've been to. (See our
Youtube channel
to see all of our videos)
Why do you believe learning about money and caring about personal finance is important?
Personal finance and money can buy you the most valuable thing: freedom. There are so many unhappy people in the world that feel trapped because they are stuck in a job that they hate, are paralyzed by debt or are postponing their dreams.
If people had the freedom to live out their dreams, spend time with their family or pursue a meaningful job, the world would be a much better and happier place. I think most people mistake money as a means to buy more stuff when actually the value of money is to be able to have the freedom of choice.
How You Can Contact Nomad Numbers for More Information
Thank you for reading this interview, and thank you, Nomad Numbers, for providing us with some great personal finance tips!